Smartwatch with Wireless Earphones (Works with iPhone & Android)
保证安全与安全结帐
描述
Limited offerOnly Today!
Grab yours before the promotion ends!
The Smartwatch of theFuture!

As Featured On

Upgradeto theRestro – All-in-1 Smartwatch
Restrois a24/7 fitness trackerthat monitors heart rate. sleep quality. and records stepswith calories burned. It isgreat for monitoring fitness progression!
Plus. with message notifications.Restrocanrespond to calls and textswhen your phone isn't in your hand.making life so much easier!
It alsoworks withApple. Android. and Windows Devices.
Functions:
Phone Search
Message Alert
Call Log
Calculator
Time Display
Stopwatch
Countdown Timer
Alarm Setting
Monitoring: step count. sleep. blood oxygen. blood pressure. heart rate. and body temperature
WaterProof
IP67 Ratedwaterresistant watch. you don't have to worry about getting into the water during daily use. You canenjoy exercise without worrying about sweat or water damage.
Voice Assistant Ready
When connected to the phone's Bluetooth. the voice assistant can be activated to play music and make calls.(Siri Enabled)
Long Duration Battery
Excellent battery life for your daily use. After a full charge. it can be used for7 days of normal useor up to25 daysin standby mode.
450-mAh large capacitybattery. use our patentedUltra-low power intelligent chip.recharge 2 hours.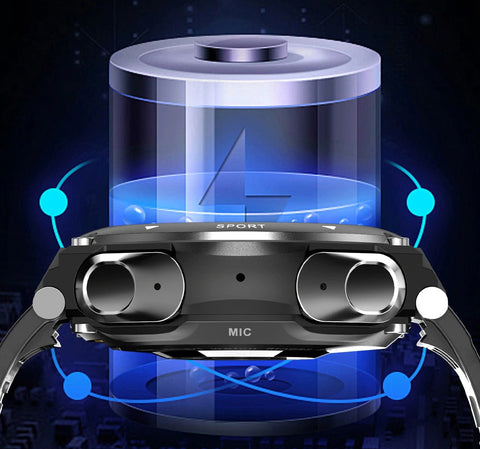 ProfessionalMicrophone
Integrated withintelligent ICeffectively filters background noiseto make the voice clear and prominent.
Bluetooth Calls
Allows you toanswer calls and dial directlyon your smartwatch through a Bluetooth connection. You'll never miss an important call or message during a meeting or training session.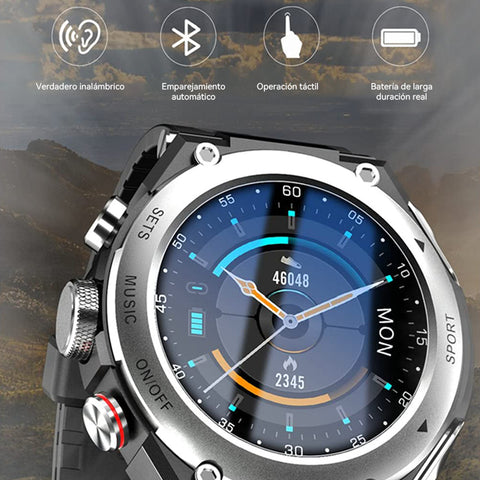 One Size Fits All
Overtime the earbuds willautomaticallyshapeinto your ear with our patentedmagic shapetechnologymaking themextremely comfortable.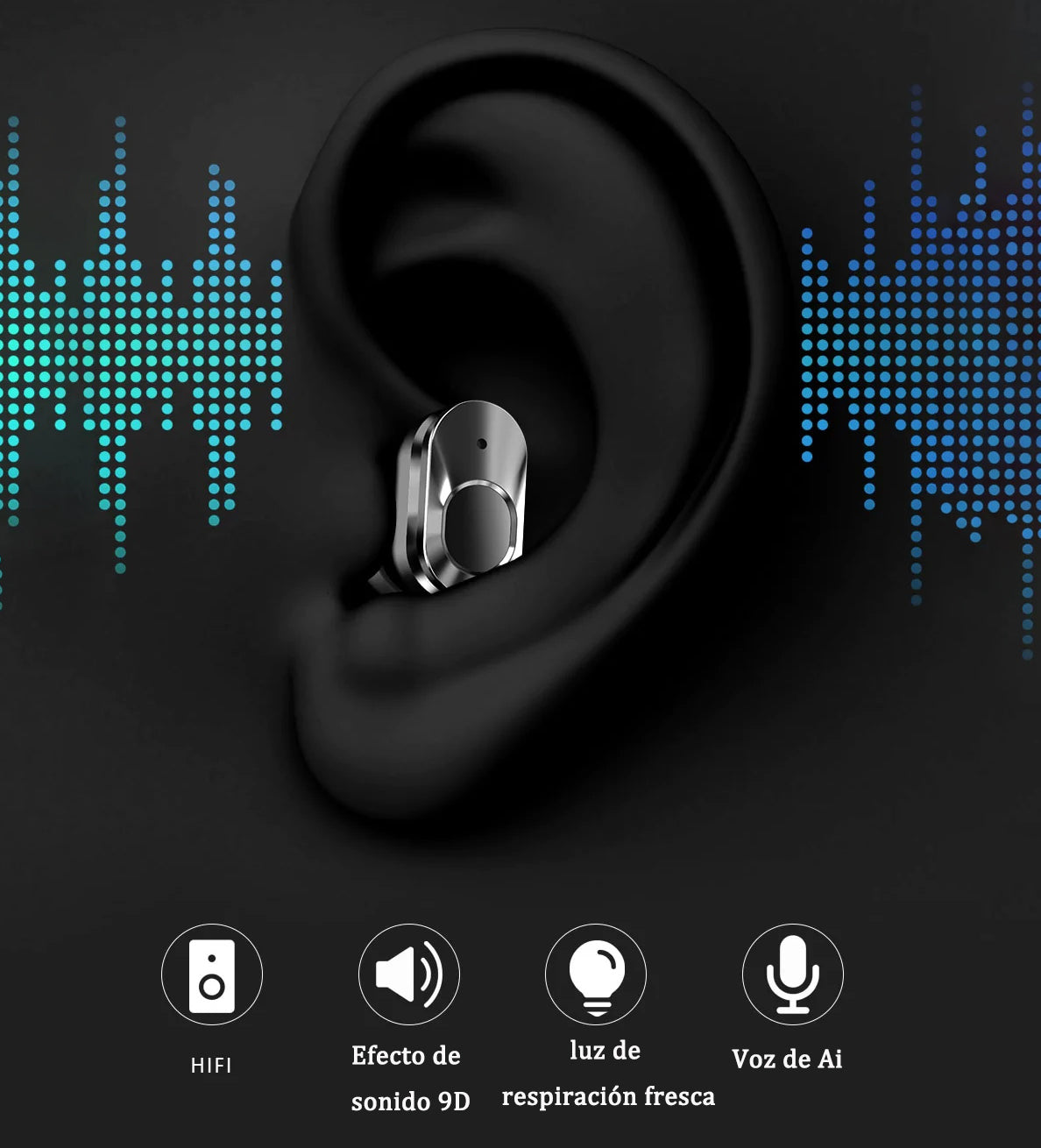 Music on the GO!
With 128M memory. music storage of more than 100 songs.enjoy music even without a mobile phoneanywhere you go!
Or connect to your phone's Bluetooth forunlimited music!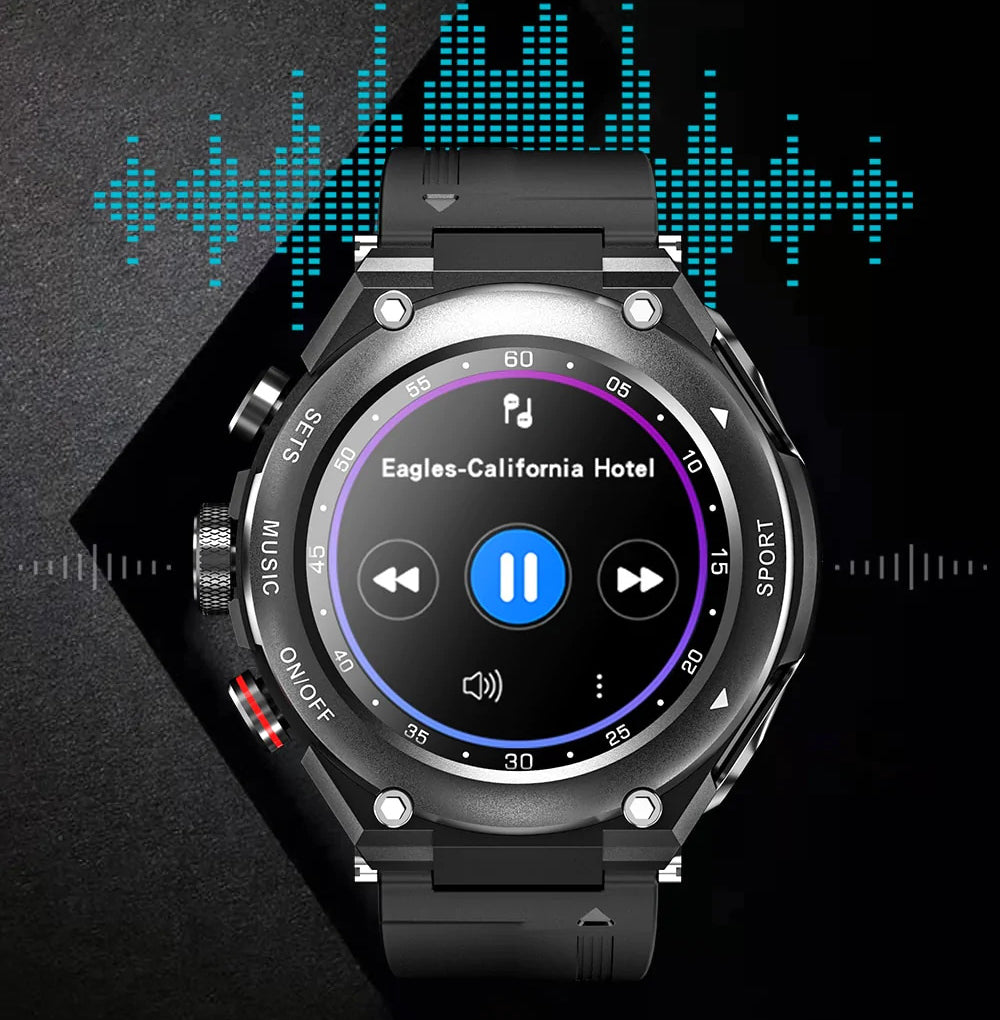 Integrated Earphone Charging
The watch is a patented charging storage box. with an integratedfast-chargingdesign.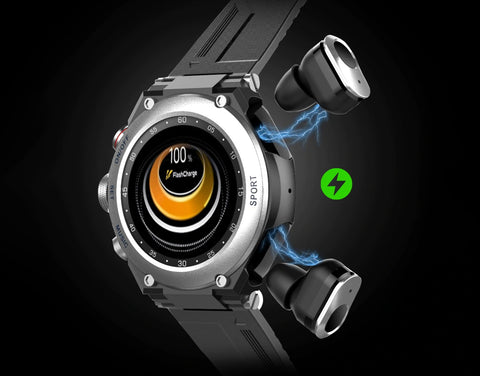 Live Heart RateMonitoring
Easilymonitoryour health and fitness live. Or get alert notifications when somethingabnormal is detected.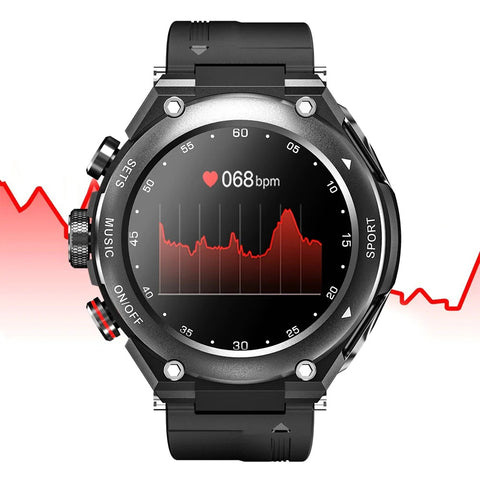 High Body Temperature Warning
When body temperature exceeds 37.2 C (36??~37?? is the normal range). the watch will vibrate.reminding you to cool off. drink water and take care of your health.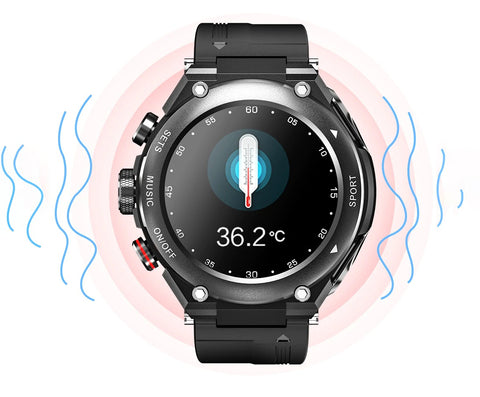 Blood Pressure and Oxygen Monitoring
A newlive monitoring method. you can measure blood pressure and blood oxygen data directly on the watchwithout connecting an app. so you can understand your body changes anytime. anywhere.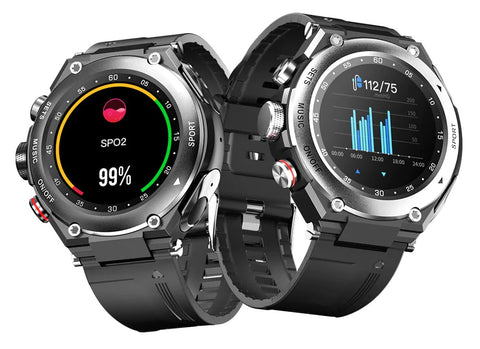 Bluetooth Call Support
Equipped with a high-sensitivity microphone. independenthigh-fidelity audioand call quality. Provide super convenient calling experience. ringtone reminder. no missed calls. andhands-free.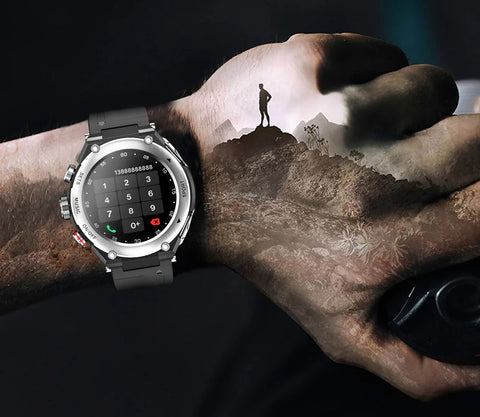 Many Face Display Styles
There are many different style dial plates for free. Switch the unique style you like at will.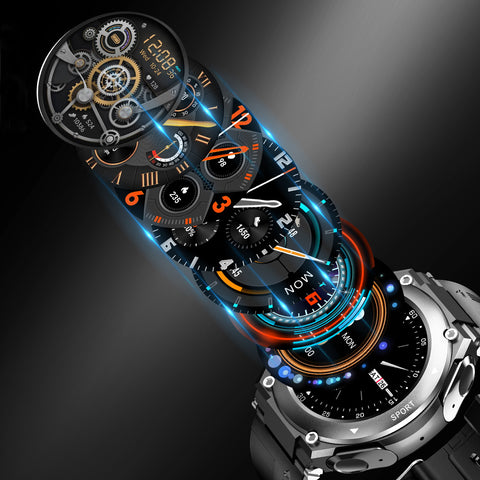 Background Customization
Be Unique and choose the style that represents who you are!
Language Support:
Watch & App language (factory default English):Chinese. Traditional. English. Spanish. Portuguese. Japanese. French. German. Russian. Polish. Persian. Thai. Malay. Turkish. Italian. Arabic. Vietnamese
Specifications
Material: Zinc Alloy. Silicone

Dial Dimensions: 53 x 18cm

Strap Band Diameter: 58mm
System Requirements: Above Android 4.4 or IOS 8.0
Package includes
1 x Restro

1 x USB Charging Cable
Shipping cost is based on weight. Just add products to your cart and use the Shipping Calculator to see the shipping price.
We want you to be 100% satisfied with your purchase. Items can be returned or exchanged within 30 days of delivery.
Quick Comparison
Settings
Smartwatch with Wireless Earphones (Works with iPhone & Android)

remove

( 1 + 1 FREE )Exfoliating Sponge

remove

Black Makeup Vanity Dressing Table with Swivel Cabinet Mirror & Stool Included

remove

(1+1 FREE) Dark Spot Corrector Daily Face Serum

remove

(1+1 FREE) LED MOTION SENSOR CABINET LIGHT

remove

Intelligent Sterilization Rotating Shoe Cabinet

remove

Name
Smartwatch with Wireless Earphones (Works with iPhone & Android)

remove

( 1 + 1 FREE )Exfoliating Sponge

remove

Black Makeup Vanity Dressing Table with Swivel Cabinet Mirror & Stool Included

remove

(1+1 FREE) Dark Spot Corrector Daily Face Serum

remove

(1+1 FREE) LED MOTION SENSOR CABINET LIGHT

remove

Intelligent Sterilization Rotating Shoe Cabinet

remove

Image
SKU
A8395152916827
A8183187931436
A20230622053621
A8418692333915
A8183141433644
A20230622053459
Rating
Price
Stock
Description
smartwatch-with-wireless-earphonesworks-with-iphone-android-buy-2-free-shipping
exfoliating-sponge
black-makeup-vanity-dressing-table-with-swivel-cabinet-mirror-stool-included
dark-spot-corrector-daily-face-serum
led-motion-sensor-cabinet-light
intelligent-sterilization-rotating-shoe-cabinet
Weight
N/A
N/A
N/A
N/A
N/A
N/A
Dimensions
N/A
N/A
N/A
N/A
N/A
N/A
Additional information

| | |
| --- | --- |
| Modelo | Blue, Grey, Pink, White |

| | |
| --- | --- |
| Color | Blue, Pink, Black, White |

| | |
| --- | --- |
| Model | 20CM Black, 20CM Silver, 40CM Black, 40CM Silver |

| | |
| --- | --- |
| Color | Gold Line, Plaid, Sliver Line, Black |
| Size | 66.5" H x 15.7" W x 15.7" D (10 Tier), 77.6" H x 15.7" W x 15.7" D (12 Tier), Black, Gold Line, Plaid, Sliver Line |

Add to cart